Editor-In–Chief
Dr. Saminathan Muthusamy, PhD
Department of Medicine,
University of Illinois Chicago.
840 S Wood Street Chicago 60612. USA.
Executive Editor
Dr. Somesh Gupta, Ph.D
Associate Professor,
Dermatology and Venereology,
All India Institute of Medical Sciences,
New Delhi, India

---

Associate Editor
Dr. N. Sivakumar, M.Sc., Ph.D.
Assistant Professor, Department of Biology,
College of Science, Sultan Qaboos University,
P. O. Box 36, PC 123, Al-Khodh, Muscat,
Sultanate of Oman.
Assistant Editor
Dr. R. Nelson, M.Sc., Ph.D
PG and Research Department of Botany,
Government Arts College,
Ariyalur - 621 713, Tamil Nadu,
South India.
---
Current Issue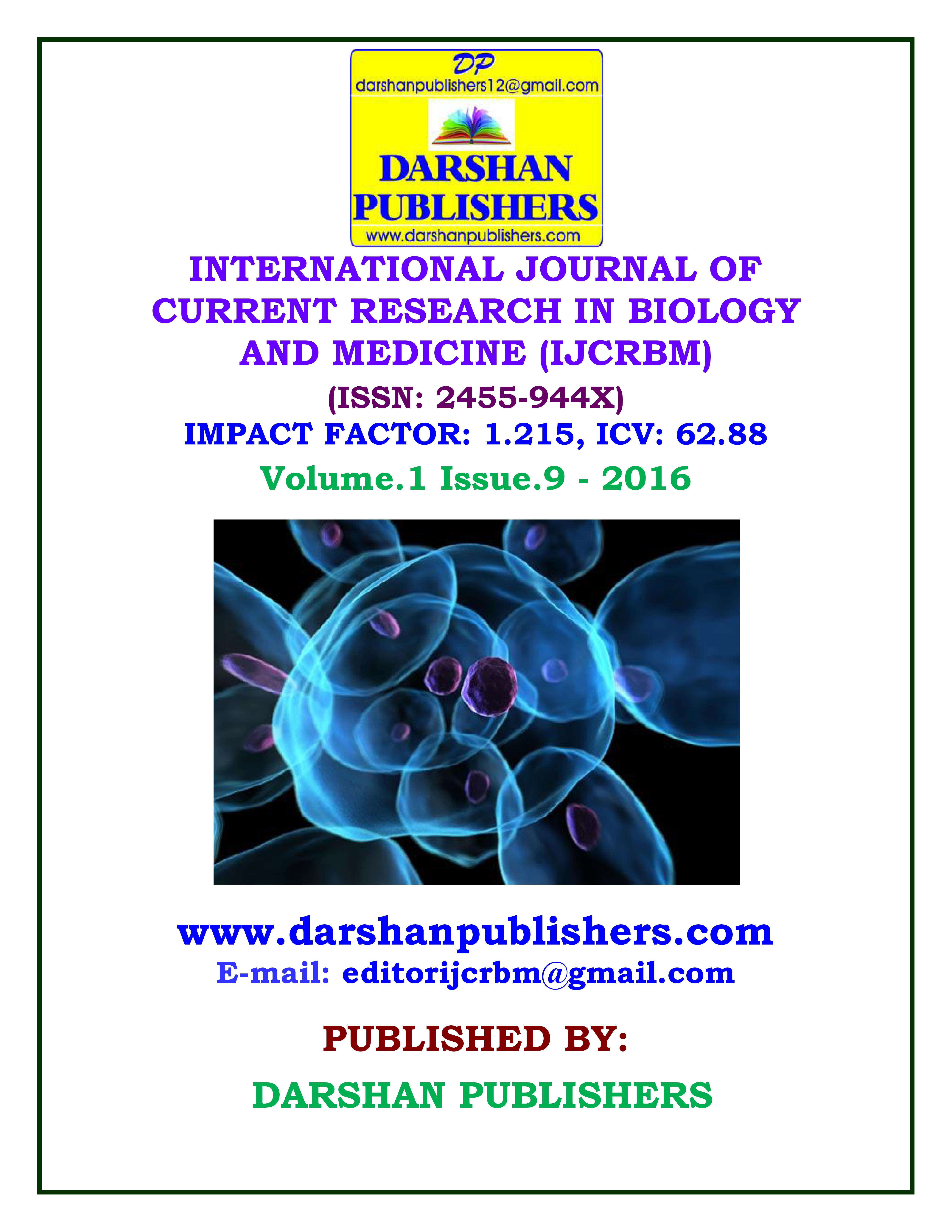 Volume 1, Issue 9 – December - 2016
International Journal of Current Research in Biology and Medicine (IJCRBM) aims to publishes various fields of biology including Life sciences, Microbiology, Biotechnology, Agricultural Sciences, Chemical Sciences, and Environmental Sciences, Botany, Plant Science, Biochemistry, Zoology, Marine Biology, Genetics, Molecular Biology, Pharmacogenomics, Pharmacology, Medicine and Dentistry, Veterinary Science, Anatomy, Nutrition and Metabolism, Cancer Research and Experimental Oncology, Clinical Pathology and Forensic, Medicine, Agricultural Engineering, Agricultural Biotechnology, Agricultural Microbiology and Plant Pathology.
---
Medicinal fields includes Adolescent Medicine, Pathology, Clinical neurophysiology, Emergency Medicine, Hospice and Palliative Medicine, Infectious disease, Internal Medicine, Vascular medicine, Microbiology, Nuclear medicine, Occupational medicine, Ophthalmology, Orthopaedics, Paediatrics, Physical medicine and rehabilitation, Paediatric respiratory medicine, Podiatric Medicine, Public Health, Sports Medicine, General surgery, Cardiology